B8-1H Lav 1225 Knob
Last updated
1 Handle Lavatory 1225 Knob Style: Removal and Installation
1.

2. Remove handle cap using flathead screwdriver. Then using a phillips screwdriver, remove the handle screw and knob.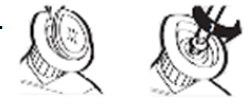 3. Slide the stop tube and flat steel washer off of the facuet.

4. Remove the cartridge clip using a flathead screwdriver.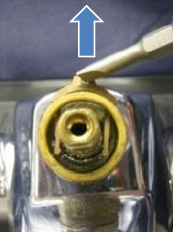 5. Place the black or white plastic cap, included with replacement cartridge, over the top of the old cartridge and then rotate one-quarter of a turn in either direction. Then, remove the cap.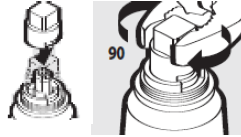 6. Pull up on the brass stem to remove cartridge.
Cleaning and Flushing of Valve body
7. Clean the inside of the valve body with a soft bristled nylon brush to remove any calcium buildup. After cleaning, place a bowl on the open valve to redirect water into the sink. Next, turn on water supply lines slightly for a few seconds to flush clean water through the open valve.
Installing the 1225 Cartridge
8. Slide the new cartridge into the brass valve body. Ensure the plastic ears on top of the cartridge are at the twelve and six o'clock positions.
9. Slide the copper clip back into the valve body on top of the cartridge. If you have trouble installing this, please refer to the special note at the end of this document.
10. You may now work in reverse from steps 3 through 1.