K14.1-Integra Collar And Nut Kit-Removal And Installation
Last updated
Removal of the Collar and Nut
1.
2. Remove the Moen logo button by pulling this forward. Insert the Allen wrench into the hole on the handle to unscrew the handle set screw. Remove the handle. Make sure not to lose the set screw.
3. Unscrew the Phillips screw in the center of the connector plate. The color and material of this connector plate can vary. Lift the connector plate off of the faucet and set this aside.
4. Using your hands, grab the collar and unscrew to remove.
5. View the photos below. If the top of the faucet looks like Photo A, move to Step 6. If the faucet looks like Photo B, please see the special note at the end of this document before moving on to step 6.
6. Grab the large, black pivot retainer and lift this off of the faucet.
7. Locate the flat spots on top of the retainer nut. Using large pliers or Channel Locks, unscrew the retainer nut counterclockwise. Place this away from the work area next to the collar.
Installation of the Collar and Nut
8. Tighten the retainer nut onto the faucet. Locate the brass stem in the center of the faucet. This has a small notch on one side. Rotate the stem to insure this notch faces forward.
9. Place the black pivot retainer on top of the nut. It is important that the pivot retainer is installed with the grooves facing the back of the faucet. Then put the collar on and tighten.
10. Make sure the plastic U-shaped connector is correctly attached to the bar in the center of the connector plate. The larger hole should be facing down.
11. Locate the tab on the bottom of the handle connector plate. Place this plate on top of the faucet and make sure the tab goes into the groove in the back of the black pivot retainer. Tighten the Phillips screw.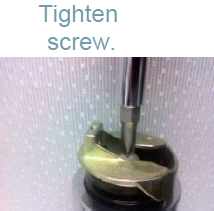 12. Place the handle on the faucet and insert the Allen screw through the large hole on the front of the handle. Tighten this screw with the Allen wrench. Insert the red and blue plug button into the holes on the front of the handle.
You are all done!
If you are installing a 1225 cartridge, click here.