K22-1255 Threaded Dome Sidemount Handle
Last updated
1.
2. Insert the 3/32" Allen wrench into the hole in the handle on the side opposite the lever. Unscrew the Allen screw only until the handle will slide off. This screw does not need to be fully removed.
3. Unscrew the handle hub to remove.
4. If you need to install a new 1255 cartridge, please move to step 5. If you only need to install a new handle, reverse steps 3 through 1 to install the new handle.
5. Using large pliers or Channel Locks, unscrew the cartridge nut counterclockwise and remove.
6. Grab the silver metal stem of the cartridge and slide this out of the faucet.
Installation of the Cartridge
7. View the 1255 cartridge to find the small tabs protruding. Look into the metal chamber of the faucet to find the location of the three large grooves. These grooves will accept the small tabs protruding from the cartridge.
8. Insert the 1255 cartridge into the metal chamber making sure to line up the three tabs with the grooves.
9. Using the grey assembly tool (if available) or a wrench, tighten the cartridge nut until snug. Next turn an additional 90 degrees to fully secure the nut.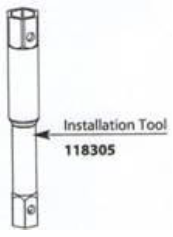 10. Screw the handle hub back on to the faucet.
11. Slide the handle back on and tighten the Allen screw.
12. Turn the hot and cold water back on.
You are all done!